/ALL TOURS ARE POSSIBLE TO BE CUSTOMISED ACCORDING TO YOUR DESIRE AND TIME/
Our cultural tours make you to experience local culture and customs in a stress free, and we desire to make your journey with memories for a lifetime!
The experiences of our cultural tours include most of the highlights for each part of the country. Our tours are ideal whether you want to experience the Gobi Desert, homeland of dinosaurs that lived 70 million years ago, or natural beauty including fresh lakes and high mountains, or combining experiences such as swimming in natural hot springs and viewing ancient historical sites.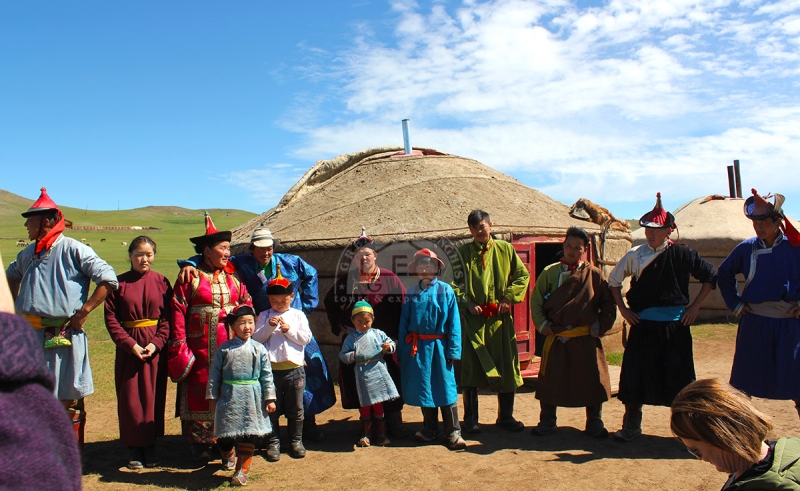 OUR WEALTH OF EXPERIENCE ENSURES THAT YOU WILL TRAVEL IN GOOD HANDS!
TRIP NAME

LENGTH

GURANTEED DEPARTURE

QUICK REFERENCE ITINERARY

CUSTOMIZED DEPARTURE AVAILABILITY

BEAUTIES OF THE GOBI

11 days

21-31 May

16-26 June

20-30 July

17-27 Aug

9-19 Sept

20-30 Sept

Day 1 Arrival UB, Day 2 Baga Gazriin Chuluu, Day 3 Eagle Valley, Day 4 Khongor Sand dune, Day 5 at sand dune, Day 6 Bayanzag, Day 7 Ongi monastery ruins, Day 8 Kharkhorin, Orkhon Valley, Erdenezuu monastery, Day 9 Khustai NP, Day 10 UB, Day 11 departure transfer

Any day between 15 May – 15 October

CLASSIC MONGOLIA

10 days

15-24 May

1-10 June

11-20 June

18-27 July

1-10 Aug

1-10 Sept

Day 1 Arrival UB, Day 2 Khogno Khan, Mongol els sand dune, Day 3 Kharkhorin, Orkhon Valley, Erdenezuu monastery, Day 4 Tsenkher hot spring, Day 5 Ugii lake, Day 6 Khustai NP, Day 7 Terelj NP, Day 8 Genghis Khan statue, UB, Day 9 UB city tour, Day 10 Departure transfer

Any day between 15 May – 1 October

HIGHLIGHTS OF MONGOLIA

16 days

1-16 June

17June-2 July

20Aug-4 Sept

Day 1 Arrival UB, Day 2 Amarbayasgalant monastery, Day 3 Erdenet, Bulgan, Day 4 Ikh Uul, nomad family, Day 5 Khuvsgul lake Day 6 Khuvsgul lake, reindeer family, Day 7 Murun, deer stone, Day 8 Zuun lake, Day 9 Terkh White lake, Day 10 Khorgo volcano, Day 11 Tsenkher hot spring, Day 12 Kharkhorin, Orkhon Valley, Day 13 Khugnu Khan mountain, Mongol els sand dune, Day 14 Khustai NP, Day 15 UB Day 16 Departure transfer

Any day between 15 May – 1 October

Ancient culture of Mongolia

12 days

15-26 June

20-31 July

20-31 August

Day 1 Arrival UB, Day 2 UB city tour, Day 3 Fly to Khovd, Khar us lake, Day 4 Throat singer family, Day 5 Khoid Tsenkher cave, Day 6 Tsambagarav mountain, Day 7 Ulgii town, Day 8 Kazakh family & hunting eagle, Day 9 Fly to UB, Day 10 UB city tour, Day 11 Departure transfer

Any day between 1 June – 1 September

Undiscovered land of Genghis Khan

12 days

12 -23 June

18 – 29 July

1-12 Aug

13-24 Aug

1-12 Sept

Day 1 Arrival UB, Day 2 UB city tour, Day 3 Genghis Khan statue, Khar zurkh Khukh lake, Day 4 Baldan Bereeven monastery, Binder ovoo, Rock engravings, deer stone, Binder, Day 5 day at Binder, Day 6 Dadal, Day 7 day at Dadal, Genghis khan's birthplace, Day 8 Genghis town, Day 9 Gun Galuut Nature reserve, Day 10 Gun Galuut Nature reserve, wild animals, Day 11 UB, Day 12 Departure transfer

Any day between 15 May -1 October