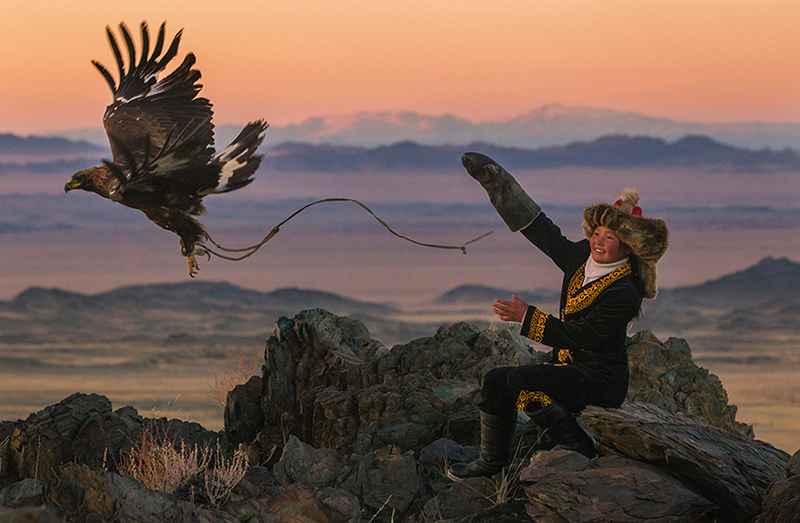 Why Great Genghis?
We are frequently asked what makes Great Genghis different from other Mongolian tour operators. Below are a few of the factors that we believe set us apart from our competitors and form the reasons as to why our clients travel with us again and again and recommend us to friends, to others….
Owned by Mongolians
Great Genghis Tours & Expeditions is one of the very few tourist companies owned and run only by Mongolians. All members of Great Genghis Tours & Expeditions are Mongolians with a passion for travel and intense love for our homeland, which we delight in showing to our Guests.
Our Experience
Travel to Mongolia with us! Our staff is pioneers of adventure and cultural travel in Mongolia. In fact we pioneered the opening of most remote areas, including Western Mongolia. All of our itineraries are carefully designed and planned to provide you with the best opportunity to see Mongolia's stunning sights and meet its very special people. We are experts when it comes to travel in Mongolia, there is no any corner in Mongolia where we haven't travelled ourselves. We are proud that one of authors of Mongolian Red book is a company member. Our wealth of experience ensures that you will travel in good hands.
Personal Service & Expertise
Our Ulaanbaatar office is manned by experienced expedition leaders and every trip we run developed from their firsthand knowledge - in short, we run the kind of trips that as passionate travelers, we like to do ourselves! When you send us an e-mail with inquiry on the tours, you can be guaranteed to receive prompt and detailed reply to any question you may have. Also when you ring our office, you will be guaranteed to chat to someone that knows the trips and the terrain, and is able to offer practical advice.
Private Tours and Tailor-made Holidays
We always welcome any individual requests and our tours can be varied to meet any particular needs. Our exceptional knowledge base gives us the ideal foundation for helping clients design their own unique holidays. Each member of the office not only comes to us with exceptional travel experiences, we also send them year on year to each of our locations to keep them fully informed on all changes that might have occurred.
Be the First
Our style of operation is all about exploration, and nothing excites us more than opening up new routes to genuine travelers. We keep abreast of new destinations and are leas others to open most remote areas of our country. Indeed part of our annual budjet is allocated to new destination research.
Small Group Size
We know tourism in such a unique country and culture such as Mongolia can have negative consequences for the land, people's way of life and our special wildlife. That's why we keep the group sizes small. Most trips are limited to a maximum of 16 travelers, thus giving you more access to fragile cultures, better opportunities to interact with local people, and the knowledge you are making less of an impact while there. We love our special land and way of life and want to preserve as much as we can while still sharing it with others, like you.
Cost of Tours
We believe in an honest, upfront pricing system so you know exactly what the tour will cost before you book and what is included to this cost. Our tours are provided on a predominantly full board basis, with mineral water, government permits, entrance fees and transport all included. Of course teaching you some Mongolian, and sharing jokes are included!
Added Value
We also realize to be a successful small travel organizer its imperative we deliver the best experience we can through whatever facilities are available to us.
Accommodation: On all our tours we therefore aim to provide you with the best accommodation available. By best we do not necessarily mean most expensive but most interesting, characterful and convenient: this might mean spending a night in a nomad's yurt or in a own tent under the starry sky.
Transport: Your transport is also an important part of the tour and as such we aim to provide the most comfortable, interesting and varied transport possible. As such you might find yourself in 4WD jeeps, in a yak cart, on a camel in the Gobi or on the horseback in the mountains.
Safety
Your safety is our highest priority. We will make every effort to ensure that you safely enjoy your travel experiences to the fullest with the assistance of knowledgeable local guides, drivers, accurately designed itineraries, carefully chosen vehicles and the best possible accommodations. We conduct all our trips equipped with a comprehensive medical kit. Additionally, our guides annually retrain in first aid techniques.
Environmentally Friendly
We strive towards a low impact approach pertaining our country's environment. During our trekking tours, we try to leave no trace and minimize waste in our operations. We always carry our trash with us until reaching towns with appropriate waste disposal facilities. During our travels, we also educate the local population on maintaining a clean environment.
Efforts in Sustainable Development
Our goal is to maximize the positive effects of tourism on local communities. We operate in close relations with local drivers, herdsmen and families hiring them as local support guides and service providers by utilizing their horses and camels. This is one way we feel it is possible to increase the income of local people as nomads generally have financial difficulties. We provide opportunities for cultural exchange where local people can learn from visitors while they in turn learn from the local community. We organize donations to local communities through the help of our partner companies. This includes support to area medical facilities, donation books to school libraries etc.
Our clients
Your companions can make or break a trip, and it's lucky therefore that our clients are our greatest asset. Traveling to remote regions is not for everyone, and as such we tend to attract open-minded travelers looking for genuine experiences, and a desire to reach those hard to get to places.
Our priorities are to ensure you enjoy your travel with us and strive to offer you a quality cultural adventure you will never forget. We look forward to meeting your expectations at every step from your initial planning through to your departure from Mongolia. A journey of a lifetime awaits you!
Don't just take our word for it check out what our clients have to say about us.