The Intellectual Intelligence Museum of Mongolia is recorded in the new edition of the "Guinness World Records 2023" book and selected as the museum with the largest collection of chess sets in the world.
The museum was established on August 13, 1990, and is the first private museum in Mongolia. A total of about 11,000 items including overall 5000 toys, puzzles, and games, and about 500 chess sets are on view. Some of them are crafted by the museum founder himself and some of them are collected from more than 130 countries.
Tumen-Ulzii Zandraa, the founder of the museum, has been crafting and collecting various types of chess for the past 55 years. In April 2019, he was registered in the Guinness World Records as the largest crafter of chess sets consisting of 438 items.
His inventions are usually wooden, the pieces carved into whimsical Disney characters and animals of the zodiac. Some even depict figures from Mongolian history, like Chinggis Khaan. The simplest is the traditional six-piece models, but some puzzles in the museum include as many as 350 pieces. There are also various puzzles made from gold, precious stones, and silver. One turtle-shaped puzzle offers a prize of $100,000 if solved within a specific timeframe. In the museum's three decades of operation, no one has ever solved it.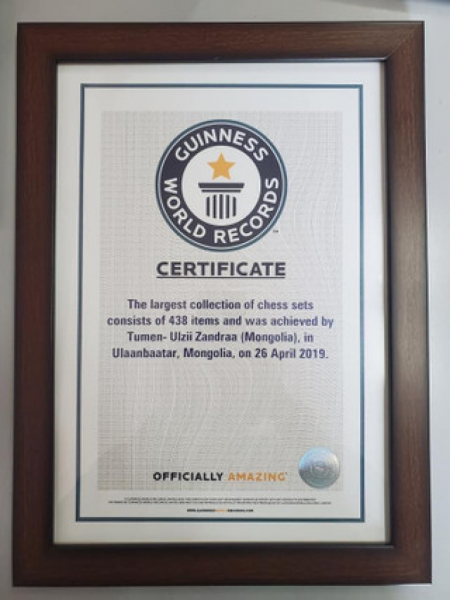 Also, there are more than 1,000 dolls from more than 100 countries, including dolls found in graves more than 1,200 years ago. There are large and small ancient Mongolian yurts that are decorated with pure gold, silver, or precious stones in the museum. The museum is admired in the world for its rare and valuable exhibits. Thus, thousands of visitors from all over the world come and see this museum, and many domestic and foreign TV stations have made programs and documentaries about the museum.
During its 33 years of operation, the Intellectual and Intelligence Museum has successfully participated in more than 100 exhibitions and expos in more than 70 countries and continues to add intellectual games from many countries to its collection. Therefore, it can be said that the museum collection is very wide.